Introduction

Welcome to Onimusha Warlords: Sinjin's Ultimate Warlord Strategy Guide. You are about to take part in an amazing adventure taking you from ancient temples and fortresses to the very bowels of the underworld. Along the way you will fight armies of undead and other demonic monsters sent to stop you from saving the princess and fulfilling your destiny.



You play as the mighty warlord and master swordsman Samanosuke in search of your kidnapped cousin Yuki. During your last battle she was captured by demons for some unknown and unspeakable purpose. It is your mission to find and rescue the princess at all costs. You will have to use all the resources and skills you have mastered over the years. The quest is long and difficult but you are not alone.




You are joined by Kaede; an expert kunoichi (female ninja) who was originally sent to assassinate you. Instead, she develops absolute trust in you and joins you on your quest to save the princess. While not as powerful as Samanosuke, she does have excellent fighting skills and will offer much assistance to you during your quest. Throughout the adventure you will be able to play as each of these characters, sometimes even working together to solve puzzles and disarm traps.

Onimusha Warlords also has a few secrets hidden throughout the levels. There are 20 pieces of Flourite that you can find and collect. If you manage to get all 20 pieces you will unlock a Bonus mini-game called Oni Spirits, an arena based challenge that if successfully completed with unlock an Ultimate Mode for the regular game. These pieces of Flourite are virtually invisible on the screen. In fact, until you get the Vision Staff much later in the game you really have no way of locating these secrets without checking every square inch of each level manually. Naturally, Sinjin is here to help, so I will be providing you with the locations for all 20 pieces of Flourite throughout the walkthrough. I've also indicated the locations of all Flourite on the level maps, and there is a Hidden Flourite Index at the end of this walkthrough that you can refer to if you are just missing a few pieces and need to quickly locate them.

I've included detailed level maps that show all of the locations with items and the various color-coded doors. These maps are based on the maps you will find while playing Onimusha, however I have taken some creative liberties and rearranged some things as well as providing much more detail. These maps are intended as a visual aid, so items shown on the map may not always be exactly where they are in the game. Refer to the text for more exact descriptions and when all else fails - look around and search your surroundings.

Combat and Inventory




Samanosuke and Kaede have two unique fighting styles and various attack abilities. Samanosuke is a powerful swordsman with the added ability of various magical attacks enabling him to deliver swift punishment to his foes. Kaede is armed with only a dagger and some throwing knives, so her attacks are not as deadly. She is more agile and is able to dodge attacks and maneuver into strategic positions for a one-slash fatal attack. These two characters are also limited in the items they are allowed to use. While they both share a "common inventory" certain items may be inaccessible while playing as either person. Using the resources and your own specific talents is just part of the challenge.

Here are the shared basic movements and attack commands for each character:

D-Pad: Basic Movement
UP - Move forward in facing direction
DOWN - Quick leap backward
L/R - Pivot left or right


R1 - Readies weapon/Locks on nearest enemy
R2 - Quick 180 turn
L1 - Block Attack
L2 - Not used



- Use Item/Open Door


- Attack (Can be combined with D-pad for special attacks)


- Hold down to Absorb Souls


- Magical Attack

R1+Left/Right - Circle strafes the current enemy
R1+Down - Kick enemy
R1+Up+

- Quick sword jab
R1+

- Lock on for magical attack

Special Note: Both warriors can deliver a fatal finishing blow to any fallen enemy by standing over them and pressing attack.

Kaede's Special Attacks

R1+Up+

- Forward flip with a reverse twist. Move in close for one-hit fatality


- Throw Kunai (knives) at enemy

Weapons

There are several weapons you will find during your adventure and knowing which one to use at the right time is crucial to your success. Your three primary weapons are the Raizan, Enryuu, and Shippuu. These three blades are infused with Elemental Magic and are directly linked with their corresponding Orbs. Throughout the game you will need to upgrade both the Orbs and these Swords using the Soul Energy you collect from your defeated foes.

Upgrading the swords increases the power of their attacks while upgrading the Orbs allows you to dispel the magical locks on many of the door granting you access to other parts of the game. These upgrades (or enhancements) can only be done at special Magic Mirrors scattered about the levels. It's up to you to decide how to spend your Soul Energy. I recommend keeping your Orbs upgraded at all times as you will require higher level Orbs to advance to new sections of the game. Both Swords and Orbs can be upgraded to a maximum of Level 3.

Here is a list of weapons and their various upgrades:

Swords


Normal Sword: You start with modest blade.

Raizan: This sword is able to deliver damaging lightning attacks.

Enryuu: Powerful sword delivers deadly flame attacks.

Shippuu: Faster than a sword but not as deadly. Can summon deadly twisters.

Bishamon Sword: The most powerful sword combines all three elemental magics.

Range Weapons

Bow: Can be used with Normal and Fire arrows.

Matchlock: Powerful firearm shoots single and burst bullets.

Kunai: Small throwing knives (used by Kaede only).

Ammo

Arrows: You will find Normal arrows scattered about the levels.

Fire Arrows: Use Soul Energy to enhance Normal arrows turning them into Flaming arrows.

Bullets: You will find Normal bullets throughout the adventure.

Burst Bullets: You can find this ammo or enhance Normal bullets using Soul Energy.

Inventory Items

During your travels you will find many items that will assist you in completing your quest. There are common items that can be found often, and unique items that only appear in one location and serve a specific purpose. Below is a complete list of all these items with basic descriptions of their functions. Common items are color-coded throughout the text of this guide. The Unique Item List is keyed to link back to the text describing the location where that item is found. These items all appear in white text.

Common Items


Herb: Restores small portion of health. Use Soul Energy to enhanced into Medicine.

Medicine: First Aid Kit restores you to full health.

Magic Jewel: Increases the maximum amount of magical power you can store.

Power Jewel: Lengthens your health bar making you harder to kill.

Files: Books, Journals, and other types of Notes provide story info and puzzle clues.

Unique Items - (Alphabetical Order)
Arashi Orb - Opens sealed Green Doors and enables Wind Magic.
Bishamon Ocarina - Flute to open secret chamber with Bishamon Sword.
Blue Key - Opens locked door in Keep Underground.
Crest Piece (Left) - Part of key to access upper levels of the Keep.
Crest Piece (Right) - Part of key to access upper levels of the Keep.
Decorated Arrow - Used to get Great Arrow and Green Key.
Decorated Sword - Used to open door to East Area.
Evil Plate - Missing half of the key to access the Dark Realm.
Gear - Missing cog in secret door mechanism.
Gold Plate - Part of key to access West Prison.
Great Arrow - Used to destroy barrier to Dark Realm.
Great Bow - Used to destroy barrier to Dark Realm.
Green Key - Open locked door leading to boat dock in East Area.
Kouen Orb - Opens sealed Red Doors and enables Fire Magic.
Purifier Bell - Dispels evil spirits.
Red Key - Opens locked door leading to West Area.
Rope Ladder - Grants access to dried moat.
Rosary of Com - Allows you to communicate with the dead.
Shiden Orb - Opens sealed Blue Doors and enables Thunder Magic.
Silver Plate - Part of key to access West Prison.
Soul Absorber 1 - Automatically consumes souls while you continue to fight.
Soul Absorber 2 - Automatically consumes souls while you continue to fight.
Statue Head - Used to open passage to Matchlock.
Talisman - Restores you to full health when killed.
Vision Staff - Illuminates hidden Flourite pieces when you are near.
Wood Ladder - Allows escape from Keep Underground.


Magic Mirrors, Wells, and Soul Energy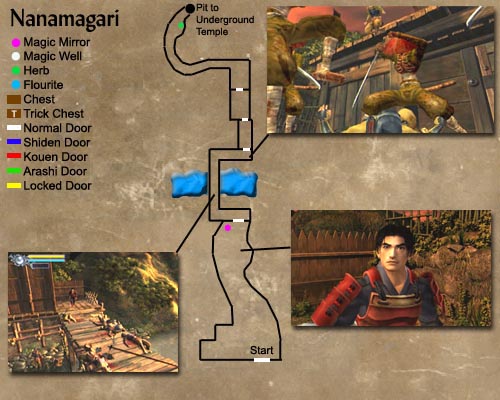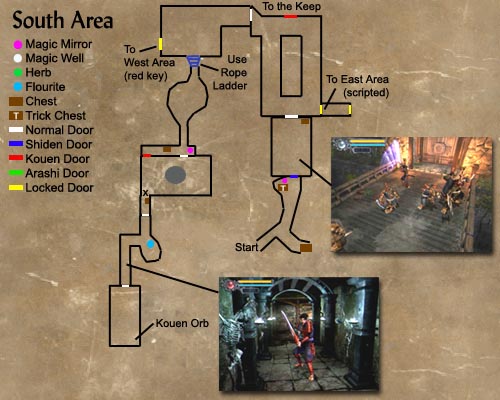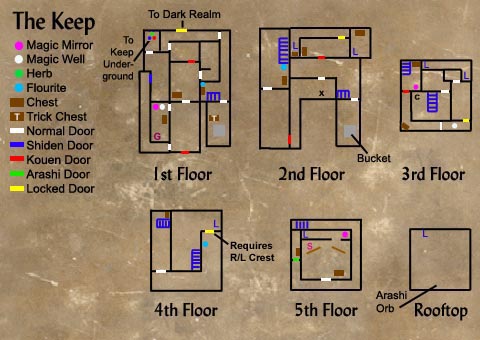 This is the starting layout

Slide 5 & 6 down
Bring L & 4 over to right
Bring 1-3 around to left

Slide L,4,5,6 to top
Slide 9 left to middle
Bring 7 & R down

Slide L & 4 to right corner
Move 5,6,9 to top middle

Slide 7 left twice
Bring L down
Move 5,6,9 to the right

Move 7 to top
Slide L & R to middle
YOU WIN!

Once Samanosuke is free you can exit through the south door. Go to the opposite corner of this room and pull the cord (c) to deactivate all the previous traps and lower some stairs leading up to level 4. Kaede will go off to explore on her own leaving you to explore the rest of the Keep by yourself. At the top of the stairs you will locate a large door with a circular indentation. It appears to be a perfect match for the Crest piece you found earlier but you are still missing the left half.

In the corner is a ladder leading back down to level 3. You can continue down from this point once more to a hidden room on level 2 where you will find a chest with the Left Crest Piece. You can also smash the wooden panel on the wall to reveal Journal #4. Climb up the ladder and exit on level 3. Follow the hall until you reach another ladder leading back down to level 2. At the bottom you will find a chest with a Power Jewel and a passage that leads around to a secret door you can open leading back to the room where you found the first half of the Crest.

Make your way back to the door on level 4 and insert both halves of the Crest to unlock the door. Open and enter. Grab the Seiryu along the east wall and the invisible Flourite #5 directly across from it. Continue around to the next room and get the Suzaku then go to the narrow gap behind the stairs to find a chest with some Arrows. Head up the stairs.

Follow the perimeter walkway killing the ninja's that leap at you from all directions. Enter the door on the south side and search this large room. Get the Seiryu and open the chest to add some Medicine to your inventory. Smash the decorative screens to reveal an altar on the left and a concealed passage on the right. Use the altar to suck up some additional Soul Energy then head into the passage to find a Magic Mirror. The ladder at the opposite end of this passage leads to a powerful boss battle, so I recommend saving your game at this time.

When you reach the roof you must battle a really big warrior with a devastating wind attack. Circle strafing is your best tactic for this battle. Wait for him to charge then dodge out of the way and slash at him from the sides or from behind. Use your block (L1) to deflect his wind and sword attacks and use your Fire and Thunder attacks to take him out. Make sure back up to a safe distance before absorbing any Soul Energy during combat. When he dies he will leave large amounts of energy and the Arashi Orb.

Now you have the power of Wind and the ability to open green doors. Start with the one on this level. Exit the roof via the ladder and head back outside. Continue along the walkway past this door to reach a door locked with a green seal. Use your new power to open this door and enter. Make a note of the chest in this room and then watch the movie. When it is over you will all be downstairs on the main floor.

You now have the option to go all the way back to the 5th floor and open that chest. Inside are some Burst Bullets, which aren't that great, but you will gain valuable amounts of Soul Energy by killing all those demons between you and that chest. Plus there are a few other surprises waiting for you if you decide to make the trip.

Your next goal (whether you get the chest or not) is to get to the Keep Underground. Return to the main room of the Keep (when you first entered) and take that SW door that leads to the double-blue locked door. By now you should have your Shiden Orb powered to level 2 and can easily open this door. Continue through the next room and enter another where a pedestal with three colored orbs rests. You will need to cycle through all three of your weapons to activate each orb and gain access to the Keep Underground. Head down the stairs to end this level.


Keep Underground